Picture this. You're standing waist-deep in the crystal-clear waters of Alaska's majestic Kenai River, surrounded by breathtaking snow-capped mountains and lush forests. You feel the adrenaline surge through your veins as you cast your line, anticipating the thrill of reeling in a trophy-sized salmon or rainbow trout.
Sounds exciting, doesn't it? The Kenai River is an angler's paradise; it offers a world-class fishing experience like no other. If you want to make your once-in-a-lifetime fishing adventure truly unforgettable, come prepared with the right Kenai River fishing gear.
In this blog, we'll offer a closer look at must-have gear for your Kenai River fishing adventure. These essentials will help you tackle the river like a pro and reel in the catch of your dreams. Let's begin!
1. High-Quality Fishing Rods and Reels
If you want to maximize your chances of success, use high-quality fishing rods and reels. The right rod and reel combination will improve your casting accuracy and distance, enhance your ability to detect subtle bites and help you fight the strong, hard-fighting fish found in these waters.
The type of rod and reel you choose will depend on your target species and preferred fishing techniques. For salmon fishing on the Kenai River, opt for a medium to heavy power, fast action rod. A spinning or baitcasting reel with a smooth, reliable drag system is also essential; it'll help you maintain control during intense battles with your catch.
For fly fishing enthusiasts targeting rainbow trout and Dolly Varden, a 7 to 9-weight fly rod with a fast action is ideal. Pair your fly rod with a high-quality fly reel featuring a strong, smooth drag system to manage the runs and jumps of these energetic fish.
When choosing your rods and reels, opt for a reputable brand that stands out for its durability and performance. G. Loomis, Waterworks-Lamson, and Shimano are excellent options. Investing in top-tier fishing equipment will improve your fishing experience and increase your chances of landing the trophy fish you've been dreaming of.
Recommended Read: Why the Kenai River is the Best Place to Learn How to Fly Fish
2. Appropriate Fishing Line and Leaders
For salmon fishing, opt for a high-visibility monofilament or braided line with a 20-40 lb. test, depending on the species you're targeting. For trout and Dolly Varden, a 6-12 lb. test fluorocarbon line is suitable. When it comes to leaders, use fluorocarbon or monofilament material, ranging from 10-30 lb. test for salmon and 4-10 lb. test for trout.
3. Tackle Selection
Selecting the right tackle isn't just important; it's imperative. This decision will significantly impact your ability to hook and land your target species.
Make sure you have a well-stocked tackle box with a variety of lures, baits, and terminal tackle. For salmon fishing, you should have the right lures and baits at your disposal.
Some popular options include:
Spinners: Opt for Vibrax, Mepps, and Panther Martin spinners in various sizes and colors to attract salmon with greater effectiveness.
Plugs: Kwikfish, Brad's Wigglers, and Mag Lip plugs are excellent salmon catchers for the Kenai River. Bring various sizes and colors to adapt to water conditions and fish preferences.
4. Waders and Wading Boots
The glacial waters can be rather cold, even during the summer months. Make sure you take special measures to stay dry and comfortable.
Waders and wading boots should be an indispensable part of your Kenai River fishing gear. Breathable waders made from materials like Gore-Tex are highly recommended for their ability to keep you dry by allowing moisture from sweat to escape. These waders are lightweight and comfortable, making them perfect for long days on the water.
When choosing waders, look for features like reinforced knees, adjustable suspenders, and built-in gravel guards to prevent debris from entering your boots. Additionally, opt for waders with a front pocket for easy access to small tools and tackle.
Wading boots will provide you with the necessary traction and stability on the river's slippery, uneven bottom. Look for boots with durable soles (e.g., Vibram or felt) to ensure a secure grip on wet rocks and other slippery surfaces.
Some areas may restrict you from wearing felt-soled boots to prevent the spread of invasive species. To avoid any inconvenience, make sure you always check the local regulations before your trip.
5. Layered Clothing and Rain Gear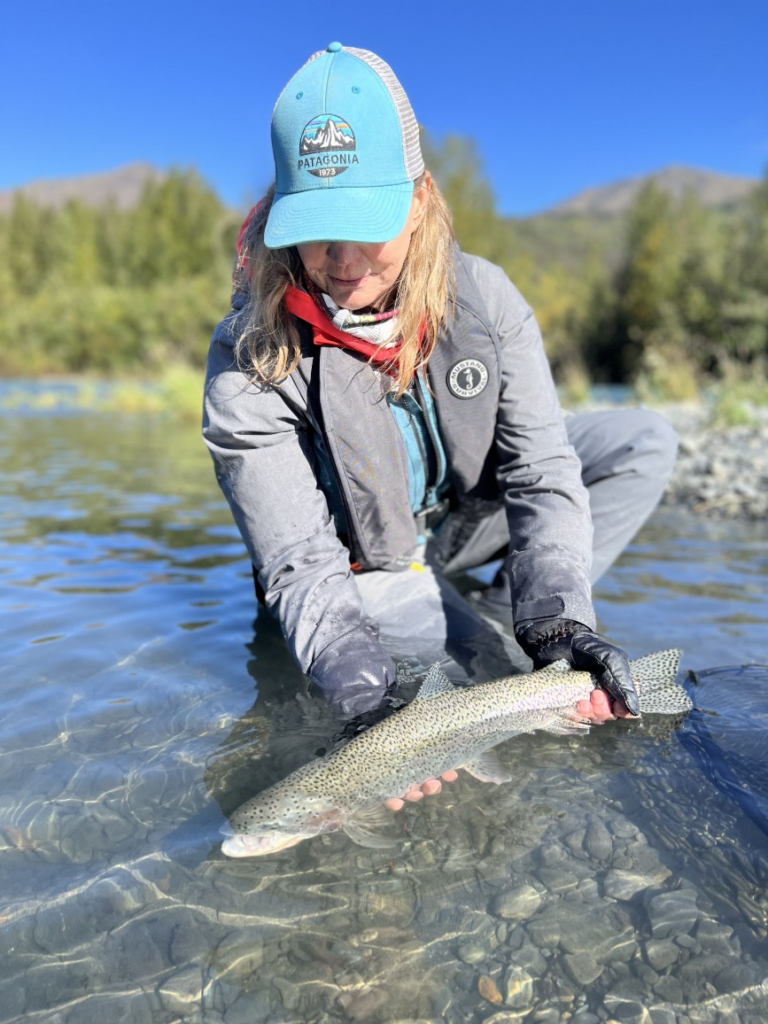 Alaska's weather can be unpredictable; dress in layers and bring reliable rain gear. Begin with moisture-wicking base layers, put on insulating mid-layers, and choose a waterproof, breathable outer shell for the finishing touches. Don't forget a hat, gloves, and warm socks to keep yourself comfortable during chilly Alaskan mornings.
Recommended Read: The Best Time to Fish the Kenai River
6. Polarized Sunglasses
Polarized sunglasses are a must-have for any angler. They reduce glare on the water, allowing you to spot fish more easily and protect your eyes from harmful UV rays. Choose sunglasses with high-quality lenses that provide optimal clarity and contrast, making it easier to read the water and locate fish.
7. Fishing Vest or Sling Pack
A well-organized fishing vest or sling pack will help you carry all your essential tackle, tools, and personal items while keeping your hands free. Look for a vest or pack with plenty of pockets, compartments, and adjustable straps for a comfortable fit. Some models also include built-in hydration systems, which can be a great addition for long days on the river.
8. Fishing Tools and Accessories
If you want to enjoy an efficient and enjoyable Kenai River fishing adventure, get your hands on the right fishing tools and accessories. Here's a list:
Needle-nose pliers or forceps for hook removal
Line nippers or scissors for cutting the line
A hook sharpener to maintain the sharpness of your hooks
A fishing net with a rubber or rubberized mesh to minimize harm to the fish
A measuring tape or ruler to ensure your catch meets the legal size limits
A waterproof container or dry bag to keep your personal belongings safe and dry
9. Personal Flotation Device (PFD)
Safety should always be a priority when fishing on any body of water, and the Kenai River is no exception. A high-quality personal flotation device (PFD) is essential. Choose a PFD that's easy to put on and take off. It should also offer a high level of comfort and ample buoyancy to keep you afloat in the event of an accidental swim.
10. First Aid Kit and Emergency Supplies
A first aid kit is indispensable for any fishing trip. Your kit should contain items like gauze pads, adhesive bandages, pain relievers, antiseptic wipes, and any personal medication you may require. Additionally, pack some emergency supplies, including a whistle, a multi-tool, a flashlight or headlamp, and a fire-starting kit.
Whether you're a seasoned angler or a beginner, make sure you're equipped with the right equipment. Once you get your hands on all the essentials, book an exciting Kenai River fishing trip with an experienced, trusted, and supportive guide.
Jason's Guide Service should be your first stop. Find out more about our Kenai River fishing guide, Jason Lesmeister, to get started. Whether you're interested in salmon fishing, a guided rainbow trout trip, or an exhilarating Dolly Varden fishing adventure, we'll make sure you enjoy an unforgettable experience.