"Jason's Guide Service is the top ice fishing guide on the Kenai Peninsula throughout Kenai and Cooper Landing, AK!" – Jerry M.
When the Alaskan salmon fishing is over, try ice fishing the lakes on the Kenai Peninsula just once and you'll be coming back for more! The days of sitting on a bucket on the ice and praying for fish to swim by and bite your bait while freezing your butt off are long gone.
The lakes of the Kenai Peninsula are full of stocked rainbow trout, Dolly Varden char, and lake trout. We bring an aggressive approach to finding and catching these fish. We fish both stocked and wild fish all winter long. We have a catch and release policy for all wild rainbow trout.
If you want to keep rainbow trout, we will keep fish that are caught on all lakes where fish are stocked. The lakes we fish are on the scenic Kenai Peninsula and they are an under used resource which allows for some great winter fishing opportunities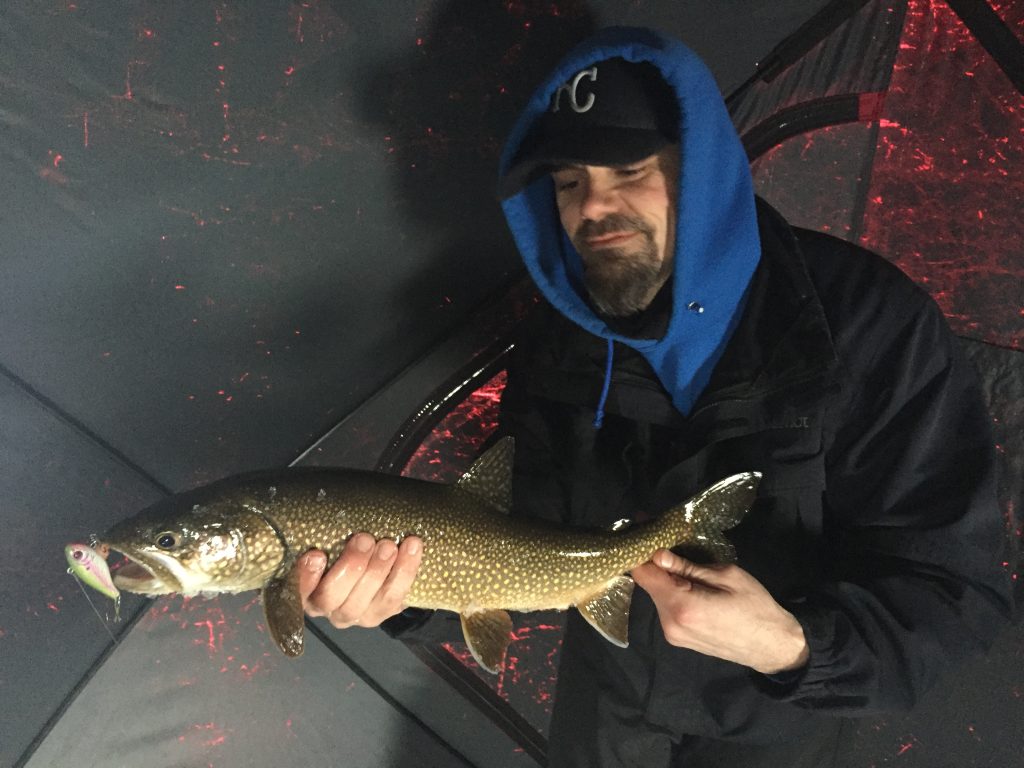 When ice fishing with Jason's Guide Service you will be fishing with the industry's finest gear:
We bring state of the art technology and good old fashioned know-how to the lakes every time we hit the ice. We fish comfortably and aggressively, whether you want to sit in the warm ice house with the under water camera watching the fish bite your lures, or drill lots of holes over good structure and cover lots of area using Vexilar fish finders to target and catch fish.
If you want a relaxing ice fishing trip in a warm ice house, or a day fishing aggressively from hole to hole finding the moving schools of trout and char that roam the lakes chasing baitfish, we have the trip for you. Jason's Guide Service will tailor your guided ice fishing trip to your wants and needs.